Tracy first contacted me in the shop last April by telephone; we followed this up with our normal wedding consultation where we discussed all of Tracy's wedding flower dreams! Each and every wedding is different and unique to the couple and to get a good understanding of this is so important. The best way for me to absorb the enthusiasm for creating a truly charming day is by meeting our couples. Sometimes this is not possible so I will always be accommodating with telephone and video calls (especially helpful during this lockdown we find ourselves in!).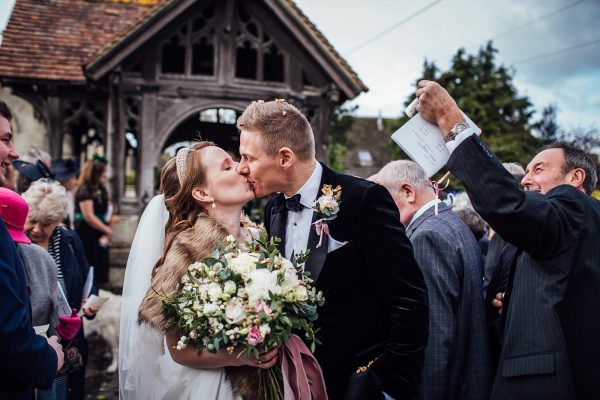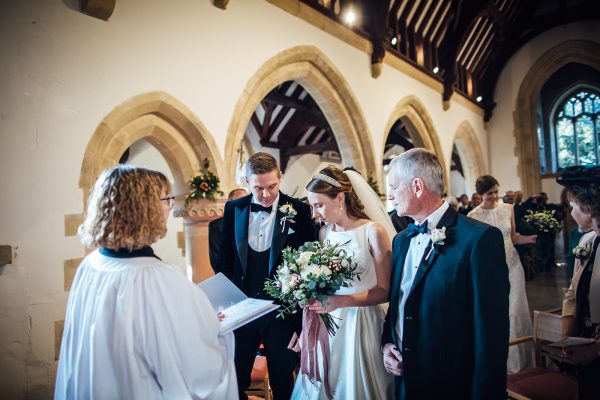 I could tell instantly that this was a partnership built on solid foundations, with huge bundles of love; this is so very clear from the photos Tracy so kindly shared with me. Matt Willis photographed this wonderful couples special day at Grittleton House merely 15 minutes from our Malmesbury based Shop.
Tracy and Tom were married in Hullavington Church before a really fabulous reception unfolded in the grand venue of Grittleton house. I loved that they included their dog in the nuptials at the Church! Pets are family and on such a special occasion I loved that they included their dog in their special day. They chose a brisk November day which allowed for fur boleros for the bridal party both for style and warmth. The bridesmaids wore stunning full length lace detailed dresses in white. Tracy wore a simple yet stunning sleeveless full skirted gown with a long veil.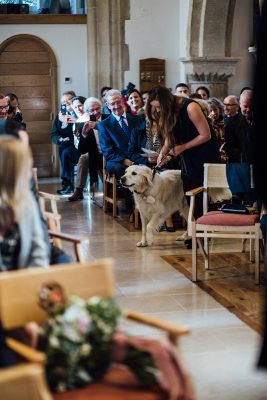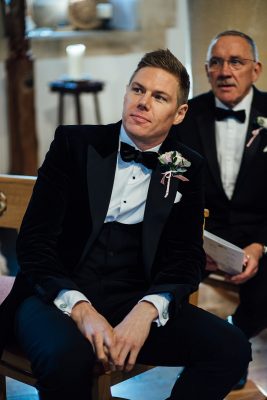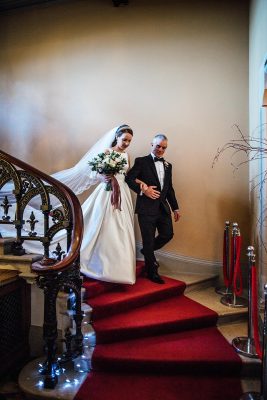 The flowers we chose were white with a splash of blush pink. The bridesmaids bouquets were smaller than Tracy's – every bride needs to feel extra special on their wedding day and the flowers should so just that. We bound Tracy's bouquet in a fabulous velvet blush pink ribbon with lots of trails each finished with a 'v' cut out. The bridesmaids were the same but with a dark green velvet ribbon with shorter trails.
Some of the flowers we chose to use in this wedding included Hydrangea, Veronica, Astrantia, Lisianthus 'Rosita White' & 'Arena Pink', Bouvardia 'Diamond Sparkles' & 'Princie', Eucalyptus foliages, scented Stephanotis heads, Garden Roses 'O'Hara' & 'Countdown', Spray roses 'Snowflake' and Carnations (these were clustered together to form a Peony style ruffled petal that Tracy so loved but was unable to have due to the time of year her wedding took place).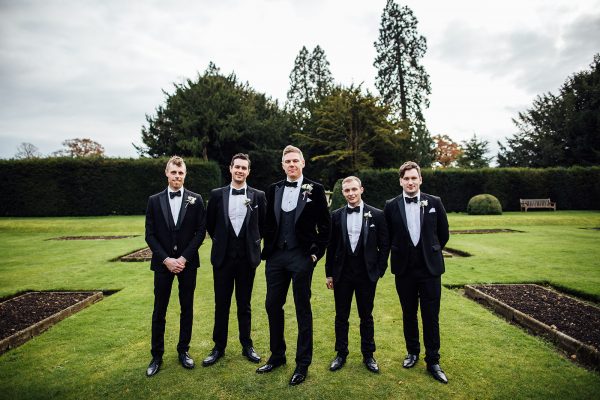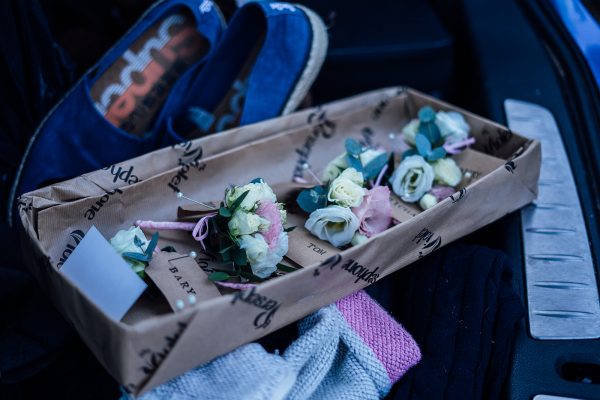 We made some really striking pieces to decorate the venue. We decorated the mantle piece with lots of the chosen blooms. Such a grand room needs lots of pretty florals dressing it. We also made two floral pillars to welcome the couple and their guests into dinner. These were made completely on site by me and my capable team of florists with lots of flowing foliages and accent blooms.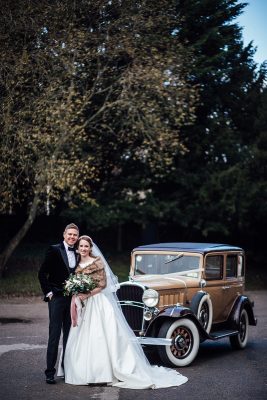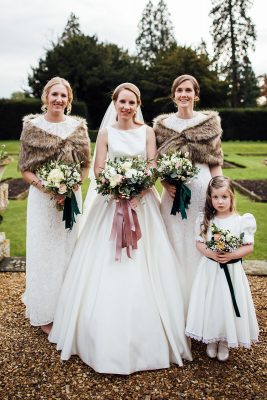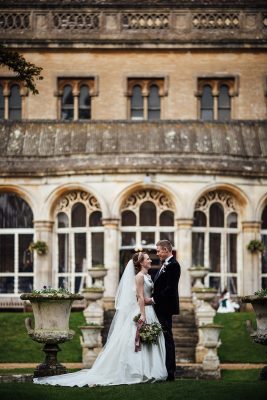 We made buttonholes for the groom and his grooms men, the dads and other male members of the family; as well as corsages for the mums. These were all theme flowers and colours. The grooms buttonhole really complimented the suit he had chosen; which was an extremely trendy and smart black velvet suit jacket with matching trousers and a bow tie. Together Tracy and Tom look like they have come straight from the front of a wedding magazine – so stylish and very well suited to each other.  Each and every detail had been thought about in this wedding – from the table china to the ribbon binds on the bouquets to the fact Tracy has two dresses – a dream of mine indeed! If you can't have a dress for your wedding ceremony and one for dancing in, late into the evening then when can you? A wedding day is a number of hours long (although I am sure it feels like 5 minutes!) – wardrobe changes are almost compulsory.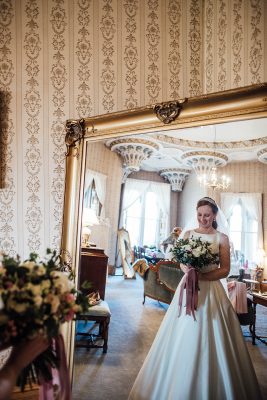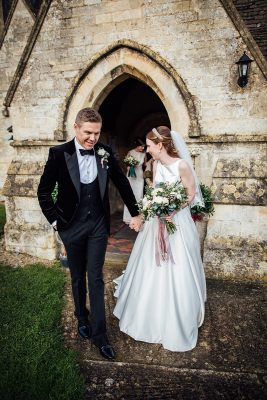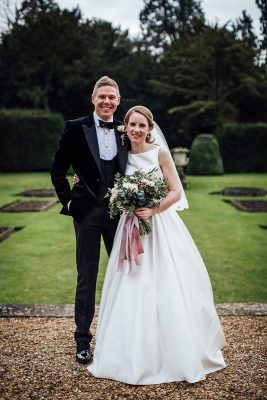 My favourite part of Tom and Tracy's wedding:-
There are so many things to love in this special day – so much so I cannot choose only one but am going to have two!
Tracy's head band – this is really very pretty and suits her down to the ground! Hair accessories are often overlooked – but this one is just right and fitting for the occasion.
I mentioned to Tracy in the morning when I dropped the bouquets to her; that I never get to see the bride dressed in real life. This is something that I only ever really get to see in the photos after the day has been and gone unlike so many of the other suppliers who get to see the bridal party all dressed in their finery. So Tracy made Emma (Grittleton House's fabulous wedding planner) come and find me so that I could see her all dressed up before she left for her wedding! This really made this wedding special to me – Tracy could have easily brushed over this comment and headed straight for her wedding without me getting a glimpse. The fact she'd listened to this and allowed me that moment of bliss where all of our ideas came together in one beautiful look was really special!
Tracy and Tom 16/11/2019 Grittleton House Matt Willis Photography Persephone Violet