Multi-award Winning Wedding, Event, And Sympathy Florist
Persephone Violet is run by RHS Chelsea Silver medallist Emily Hepworth. With over 15 years industry experience and a Level 5 Master diploma in Professional Floristry, Emily brings true expertise to the highly customer focussed service provided by Persephone Violet. A flair for creativity and also a drive and motivation to be the best is why Persephone Violet is so different to other florists.
I want to provide a friendly, enthusiastic and passionate service to all of our customers, whether they are using us on their wedding day or to buy a single stem flower.  Whether you know your Roses from your Ranunculus or are a complete flower novice, we'll help you to choose the perfect flowers and create your wildest visions with them. I genuinely believe that we uniquely have the right mix of creative flair, expertise and care to help our customers in the very best way, no matter what their requirements are, living by our motto that when it's important to you, it's important to us.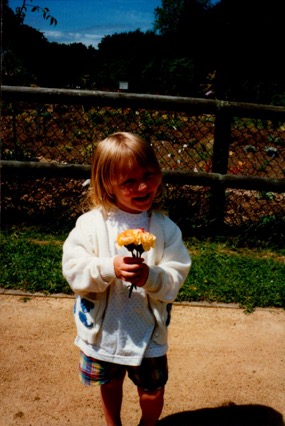 It all started when I was just 4 years old….
This is me, aged just 4… it seems I have been destined to be a florist from a young age. I started my floral career at just 10 years old when I asked my local florist for help with a table centre project for Christmas in my last year of primary school.
I was immediately hooked and started spending most of my school holidays in that florist shop, eventually securing my first job right there working until I was 17 years old – 7 years from when that first Christmas project brought me through the door.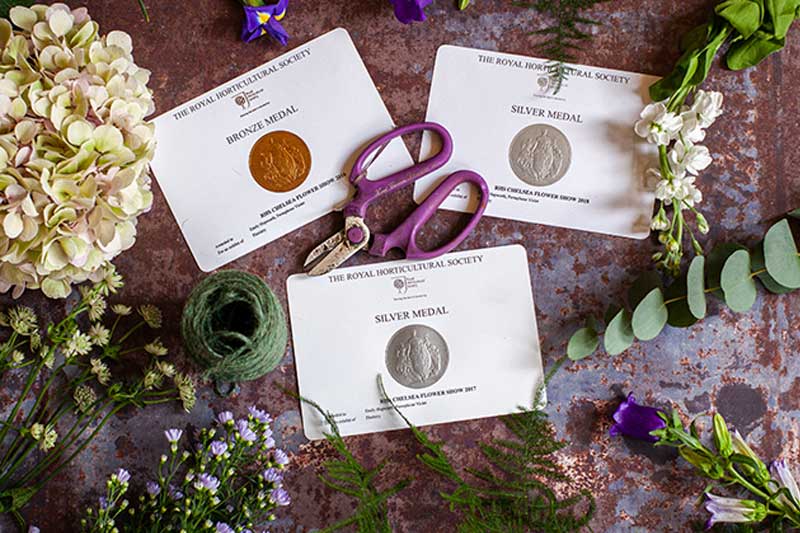 I completed my A levels and then whilst studying for my level 3 Diploma, I took the leap and started Persephone Violet, my very own floristry business, at just 18 years old. Having worked solely as a wedding and event florist until 2017 when the opportunity came up to take on the very same shop that I'd walked into at 10 years of age.
Here I am 7 years later, master qualified, RHS Chelsea flower show competitor four years running with three RHS Medals and making floral dreams happen with my amazing team here on Malmesbury High Street.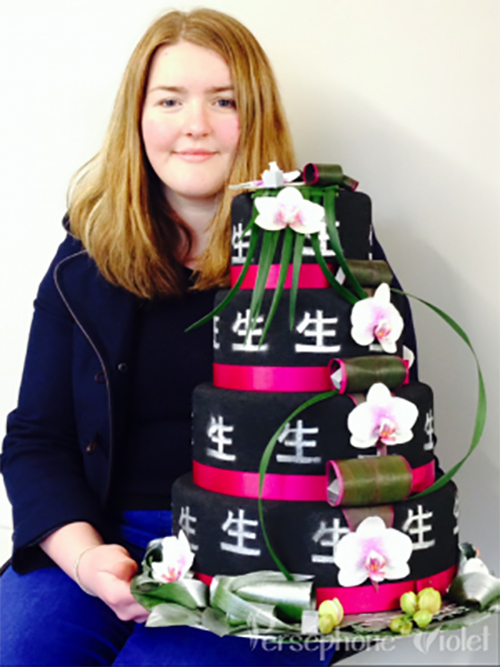 This is me in 2015 with my very first RHS young florist of the year design – I came first gaining me a place in the final. I came in the top 12 under 25 florists in the UK in 2015. Competing again in May 2016 in the Young Florist of the Year category, I was awarded my first medal a bronze for my Brazilian carnival headdress showcasing my inner floral designer. I have since been awarded two silver medals for my efforts in creating a Floral Kite and a Floral Wedding Throne.
I was incredibly proud and honoured to be named Young Business Person of the Year in 2014 and 2016, 2018 and 2019 by the Cirencester Chamber of Commerce. The award is given to a business owner under 25 who has already shown a flair for business, a willingness to learn, and a determination to succeed. To have been awarded this once is a great accolade but to be chosen four times is a huge but also humbling achievement.
Other members of the team are not only experienced and skilled in floristry but come from diverse backgrounds, including design, art, teaching and even the NHS. Alongside this diversity every member of our team shares the same passion for flowers and a creative approach to floristry. Our friendly team are always happy to help you create a stunning design or offer advice.
Today…
Life as a florist has been an incredible journey so far. Whilst my team and I run Persephone Violet, I'm also proud to be the Editor and lead contributor for Florismart's industry magazine as well as teaching floral classes in our partner business Whatley Manor.
Future…
I don't rest of my laurels though and my future plans include opening another branch (or two or three) of Persephone Violet and looking for even more opportunities to work on floral design in some showstopper pieces…and hey if that brings me that Gold at Chelsea then that would be pretty cool too!!